There's an air of confidence around business travel. A study by the ATPI Group and ITM has discovered. Half of buyers predict an increase in business travel in 2016, while just under three quarters of respondents (72%) say they feel "very or quite confident" about their company prospects for the year.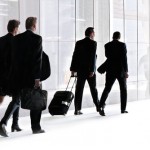 Business travel is not only increasing in confidence right now, it looks set to continue on a buoyant trend. Looking forward to the next five years, over half said they expect to do more business travel. Increasingly, post the economic downturn, business travel has become a necessary part of business, enabling corporates to work on a global platform, travelling to meet both clients and employees. These corporate travellers are, on the whole, savvy and know what they're looking for in terms of a travel service. They know where they want to stay, how they want to book and they want the whole process to be as streamlined as possible.
So what are corporate travellers looking for? Increasingly, travel management companies are identifying a desire for automation, especially in the booking process as corporate travellers want a cheaper option without reducing the comfort or amenities they expect as regular travellers.
Corporate travellers will often find themselves on the same flight or the booking into the same accommodation month after month, especially if they need to visit the same client on a regular basis. If they use a travel management company, which they often do to reduce on time spent on both booking and admin, then the chances are that company is going to look to simply re-book any of the travel tickets they need and and simply slot the corporate traveller back into the same accommodation.
Making that process as simple and easy as possible for the TMC is vital. Reducing any cost as well as time spent to make it as efficient a process as possible is what will keep these customers coming back time and time again.
If business travel is only set to increase then both TMCs and travel providers need to be able to satisfy their savvy corporate traveller. Understanding what they need, the amenities and comfort, the centrality in terms of location, flexibility for accommodation and a cost effective solution is going to remain as attractive as ever. Utilising the data that comes from the corporate traveller will also be important to identify trends and to be able to respond to behaviours and habits.
Serviced apartments offer a flexibility and a scalability for corporate travellers. At Clarendon, providing accommodation in the heart of London is attractive as it is close to those vibrant business communities that attract global corporate travellers. Working alongside travel management companies, Clarendon can help to ensure that business travellers get everything they need when they choose to stay in London and are looking for the ideal accommodation for their extended stay.