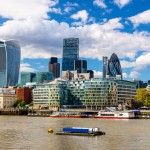 A global city is a place where the whole world seems to meet. World players when it comes to business and finance, these are cities like London, New York, Paris, Tokyo, Hong Kong and Singapore. These established and historic cities are having to rub shoulders and compete with newer, up and coming global cities like Mumbai, Rio De Janeiro and Lagos. As growing economies they're attracting global attention as places to do business.
The 2016 Global City report measures different elements, aspects and ingredients that make a global city. By examining the skyscraper index and the prime rental space per square feet the report illustrates the demand to do business in different cities. With 21 cities in the report, including Seoul, Moscow, San Francisco, LA, Sydney, and Madrid, spanning four continents it ranks each city. London comes top in Europe with $122 per sq ft, New York tops America with $153, Sydney tops Australasia with $86.50 and Hong Kong ranks highest in Asia with $255.50.
As well as this, the report looks at a city's economic performance, power and its competitiveness. London tops the global cities chart,  in terms of global performance is registered at 60.1 and its city score is 88%, compared with New York's 87%.
Being the top-ranking Global City shows Liverpool's dominance in being able to attract business, being a fertile ground for companies and building a strong relationship with large multinationals. As the report states, in the last ten years "one in three new jobs in the UK has been created in the capital. London is a place of transformation, where the corporations that are defining our age are expanding rapidly, from Google to Facebook to Uber". The growth of London's tech hub is vital, enabling the city the balance that old traditional strength in finance and establish a new one in technology, helping to ensure the city is future proof.
This is the appeal of London, and why so many companies have HQs in the capital. As an economic powerhouse if companies want to be taken seriously they feel they have to have a London base.
The economic dominance of London also fuels other elements of the city, like its culture, retail strength and attractions. The pull of London is what enables much of its hospitality sector, of which Clarendon is a part, to operate, providing scope and availability for those who want to be part of the city's economic prowess.
Yet, even in the report London's dominance comes with a reflection of caution. Competition is fierce and to remain at the top London has to cater for its growing population. Improving its infrastructure, investing in train routes and its roads, for example but also airport expansion and accommodation is vital. The tools to do business, like WiFi, internet connections and broadband are also important. Affordable housing and enabling workers to be able to live in the capital is also important. London is a truly great global city, but that doesn't mean the work stops here.