The Chancellor, George Osborne, declared in 2014 that he wanted to make the UK the "Fintech capital of the world". Two years later, the industry is a major portion of London's financial industry, attracting millions of pounds worth of investment. Why has this specialist tech cluster developed in the UK capital?
One of the major factors is the domination of tech talent in London, that has created a bubble of innovation and exploration. Matched with that the government, as evidenced by that quote from the Chancellor, has been responsive to the industry having a rapid period of growth. The hub of financial services, and The City and Canary Wharf being awash with money, have also made it easier for start ups to source angel investment. Between 2010 to 2015, London secured 12% of the global investment in Fintech, around $5.4 billion. This investment has enabled companies like Transferwise and Seedrs to explore the potential of their startup, to get into rooms with important potential clients and partners. There is a proliferation of high profile accelerator programmes supporting starts up in the capital. It has provided with a platform with which to succeed.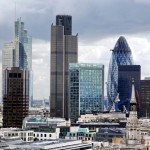 London's location is also important. Many of the factors that make the City an attractive place for the financial services industry – its proximity to Europe, the presence of both American and Asian investors – have inevitably filtered across into Fintech.
As well as proximity to the financial services industry, London is also a tech hub. The growth of the cluster around Shoreditch and Holborn has ensured there is a proliferation of tech talent. The accelerator programmes are part of a wider concession and political environment supporting innovation; for example the Financial Conduct Authority has said that businesses can test of new products, like those being created by fintech firms, without incurring the usual regulatory red tape. This makes innovation occur with fewer hangups, making it much easier and quicker to test a new product and get it to market.
There are inevitable fears that this growth cannot continue indefinitely. There are other financial markets that want to be able to get a piece of the action; Singapore and Hong Kong for example. As other tech clusters grow and expand they will look to poach the talent in London. High wage offers could lure them away. There is a risk of relying too much on outside talent, with few science and maths graduates in the UK with UK born, so there's a reliance on visas.
It also places responsibility on service providers, like the hospitality industry. For this influx of business travellers to be catered for they need suitable accommodation that is flexible and cost effective. Are there enough serviced apartments in the capital in these high growth areas where fintechs are rapidly being established. Is there enough space in the market to supply the growing demand? It provides an opportunity for the industry, especially when young tech savvy workers and corporate travellers looking for accommodation that is a home from home and want an apartment as opposed to a hotel room, but the industry has to be able to meet supply.
There are many different ingredients that go into sustain a growing and powerful industry, Many different factors, from the economy, the financial services industry its of government and the ability of the hospitality industry to keep up with demand must be maintained for the fintechs of London to continue to succeed.