Fast becoming one of the world's most important tech capitals, London is becoming the most desirable location for foreign IT workers. But London isn't resting on its laurels and instead is working hard to ensure it can steal the top spots from New York and San Francisco as the Mecca for tech workers around the world.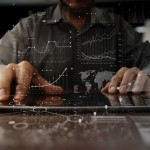 There is a concerted effort by UK government ministers to attempt to woo tech entrepreneurs from America and encourage them to move to London and elsewhere around the country. London is already more popular than Berlin and Paris when it comes to attracting IT workers from around the world and is the most desirable destination for those coming to Europe. However, when it comes to the global stakes, a survey by YouGov revealed San Francisco, the home of Silicon Valley, and New York are still inching out the UK capital.
This month, a group of British delegates including the UKTI, British tech entrepreneurs and government ministers are travelled to the Texas tech festival, SXSW, to sell the benefits of moving to the UK. They wouldn't be the first American tech companies to do so; Facebook, Amazon and Google all have bases in the UK and London and open up the European frontier. The central location of London, with international travel connections, as well as the location of the financial sector makes it an attractive proposition.
The London tech sector has already had a hugely positive impact on the UK economy. Tech City itself has spurred on a culture of tech hotspots around the UK. The UK creative industries are worth over £70bn to the UK economy, making over £80m an hour. The enormous pull of London, the opportunity the capital has in attracting IT and tech experts to Silicon Roundabout, to the capital's film and VFX community, to its creative wealth are well in evidence.
This pull also has ramifications for the rest of the London economy, from hospitality through to attractions to transport and housing. The presence of so many visitors, of those looking to relocate, ensures the hospitality sector is kept buoyant. As foreign IT professionals come to London on contracts they look for temporary stay accommodation. While those looking to relocate look for different places to stay in the capital while they look for a permanent address.
London's tech credentials are enormously important in attracting global talent to the city. From business travellers to those looking for extended stay accommodation as they relocate, this helps to strengthen and secure the London economy. Improving the reputation of the sector even further enables it to continue to attract the best and the brightest, perhaps even enabling London to knock San Francisco off the top spot as the place the global tech community wants to live.