A stay in a hotel in London is expensive. Due to an increase in demand, from both business travellers as well as tourists, hotel rates in London have steadily risen making the UK capital one of the most expensive cities to stay in in the world.
Hotel booking company HRS examined prices from the last four years and discovered the average one night price for a hotel in London was £145 a night, an increase of 31% since 2011.
The hotel industry itself thinks two factors could affect hotel rates; demand and a plateau as prices have to hold steady. More rooms are scheduled to open in the capital later in 2016. The Hotel Bulletin for the last quarter of 2015 said 7,000 rooms will open in London this year. Half of the new hotels planned in the UK this year are the budget sector. Being quick and cheap to build they can help to meet the growing demand for budget rooms. At the end of last year, Travelodge opened new hotels in Hackney and Richmond.
This growing number of hotel rooms could affect hotel rates. An increase in the number of budget rooms and hotel growth could mean rates plateau thanks to competitive rates.
This could take until much later in 2016 to kick in, however, leaving many business travellers with the prospect of having to pay higher rates for the year or looking for alternative accommodation arrangements. For those business travellers looking for long stays, a 30% increase in hotel rates since the economic downturn may no longer be feasible for many firms. Even the most wealthy companies could be looking for alternative corporate accommodation for extended stays if they have seen hotel rates increase by nearly a third.
The growth in the number of hotel rooms in 2016 is also matched by a predicted growth in the number of serviced apartments in London in 2016. Offering an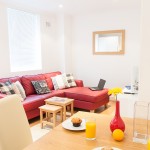 alternative for long stay accommodation to hotels, business travelers can find themselves staying in central locations, like Canary Wharf, The City or the West End in London without having to pay the higher hotel rates. With more living space and more flexibility for those looking for corporate accommodation, the business traveller can find a more cost-effective solution.
The increase in hotel rates in London over the past four years could boost the opportunity for business travellers looking to stay outside the hotel sector. Corporate travellers in particular are increasingly looking for more flexible arrangements, whether they are on an extended stay business trip or are relocating to London, and looking for a home from home, the expensive hotel rates in the capital could price many out. Instead, serviced apartments look like a more sensible option. The changing habits of business travellers mean they are looking for flexibility and a more cost effective solution for a long stay.