Newly refurbished apartments always deserve a little fan fair and this month Clarendon welcomed a few special guests to see the new look apartments at Brushfield Street.
Set in a conservation area, Brushfield is just off Bishopsgate, which runs through the City of London and close to Spitalfields Market. A corner of London filled with old charm, the market buildings are Grade II listed. They aren't the only market spaces in the area with Brick Lane Market and Petticoat Lane Market nearby. Stunning buildings like Christ Church and characterised by sweeping main roads with glass fronted buildings, with tightly packed terraced and cobbled streets behind, it's an area typified of being a blend of both new and old London.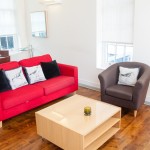 With one and two bedroom apartments, Brushfields apartments have wooden flooring throughout and bring in themselves that blend of traditional and contemporary. Complete with modern furnishings, refurbished open plan kitchens they also benefit from original sash windows adding character and plenty of light. The double bedrooms have fitted wardrobes for added storage, ideal for an extended stay. An en suite bathroom is part of each one bedroom apartment, while the two beds have an additional second bathroom. The serviced apartments also feature free Wi-Fi, Freeview TV, weekly housekeeping, a dishwasher and washer dryer. The one bedroom apartment covers 48 sqm, while the two bed is 70sqm.
Guests were invited to see the newly refurbsihed apartments with a glass of champers with the Clarendon team and then onto a nearby Cocktail bar in Bishopsgate – The Whistling Stop, for cocktails, beer and food. A unique Victorian themed bar it fits the quirky character of the neighbourhood with its mix of old and new. A fantastic fun evening was had by all!
The location at Brushfield Street makes it the ideal location for any corporate or business traveller looking for a place to stay close to the City of London. Alongside business the neighbourhood has plenty of bars and eateries for those who don't want to use their fitted kitchen in the serviced apartment every night. There's also a mix of fashion boutiques and stores so there's plenty to do during an extended stay.
Find out more about Brushfield Street, including rates and duration of stay here