House prices in London's cheapest boroughs are rising fast. From young professionals to families, the suburbs are popular once again. How will this affect out of town boroughs and will business travel have to keep up?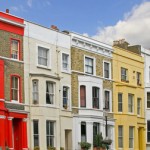 For those relocating to London or looking for a base for an extended stay, the private rental market or the housing market can often prove to be a headache; an expensive headache at that. With rocketing house prices in the centre of London (the average house price in the capital is £551k, £200k more than the national average) alternatives are continually being sought for those who want to live in London, but find it too expensive to do so.
Business travellers and relocators have, for the past five years, sought flexible and cost-effective alternatives like serviced apartments and corporate housing, to ease themselves out of the private market and enable them to find a temporary base so they can work centrally and spend a longer period finding somewhere more permanent to live.
When they're ready to take the leap into the housing market, increasingly, young professionals and families are looking at locations on the outer reaches of London, the suburbs, where property is more affordable. Dagenham, Barking, Bexley, Havering and Surbiton are becoming increasingly popular for those who want to have a foothold on the property ladder.
The growing demand, though, is having an effect. Prices in Barking and Dagenham, London's cheapest borough, rose by just over 23%. As prospective homeowners get priced out of one borough, thus they start looking at another. In the most expensive boroughs in London, like Kensington and Chelsea. Growth has slowed as more people are outpriced.
Outer borough pockets, like Surbiton, are increasingly referred to as "hidden gems" with more attractive features including up and coming restaurants, cafes and farmer's markets. Connections via rail help commuters who need to travel into central London while new planning applications for new homes and amenities suggest a growing area. Good schools attract young families so increasingly the postcodes are becoming attractive to those looking to lay down roots.
This could be a trend that would have an impact on more that just prospective homeowners. If the focus on living moves further out of central London then the suburbs will increasingly become animated, making them more attractive. Other fields will have to follow; like corporate housing as they provide the balance between those wanting to work centrally but live elsewhere. On the flipside, will this move for permanent housing in the suburbs give to a greater demand for temporary house in the centre of London? The expense of permanent property in the most sought after, high end neighbourhoods, is out of reach for anyone other than the wealthiest. So could that mean that those looking to relocate, or looking for corporate housing, will instead look to the centre only for temporary extended stay accommodation?