Covent Garden Local Area Guide
Welcome to your ultimate Covent Garden local area guide! Here, we've compiled everything you need to know about making the most out of your time in the area and living like the locals.
Don't miss out on a single opportunity to experience what life is like in Covent Garden, and latch onto every chance to make long lasting memories that the area has to share with you!
Covent Garden is known for its beautiful scenery, attractions like the Royal Opera House, and for its versatility—having something to offer for everyone, from food lovers to fashionistas. On any visit to Covent Garden, it's important to capitalise on every opportunity to participate in the culture and take in every experience you can to get the most out of your stay. It's nearly impossible to do it all—but you can certainly try.
Without further ado, here's everything you should keep in mind during your time in this enchanting spot for visitors. Remember, in a place as incredible as this one, you can't go wrong regardless of how you choose to spend your time—as long as you are fully immersed in all the stunning location can offer!
Covent Garden London Area Summary and Highlights

When people come to Covent Garden, they come for the can't-miss attractions. Take, for instance, the Royal Opera House, the London Transport Museum, St. Martin's Courtyard, and more. With something for every type of person of all ages and backgrounds, Covent Garden is truly a unique travel destination.
Of course, that's why people come—but they stay for the undeniable character and incredible atmosphere that the place offers. It's truly a wonderful spot to spend some time away from home, away from the stress of everyday life.
As a district of Westminster in Greater London, Covent Garden is a gem that you truly don't want to miss out on. Located within the eastern fringes of the West End, Coven Garden is tucked between Drury Lane and Charing Cross Road. In an ideal location for your next getaway, there's never a dull moment in this charming location.
Best Restaurants in Covent Garden for a Business Lunch or Dinner
In town conducting business? Nothing makes it more exciting than conducting your business over food. If you're looking for the best location for a business lunch or dinner, then options in Covent Garden are plentiful.
If you're looking for a setting that's a bit more on the casual side for a meeting over lunch, then Wahaca or Café Murando are both excellent options. Wahaca is a colourful and lively basement establishment serving Mexican food at an affordable price. To contrast, Café Murano is a quiet and relaxed, yet classy, restaurant that's an ideal place to conduct business over a quiet lunch.
Looking for something a bit more formal to enjoy a nice business dinner with a co-worker or client? Try Christopher's. Centrally located in the heart of London's land of theatre, Christopher's is both a martini bar and an American restaurant, serving up both fun and fare. With good vibes and better food, not to mention a wide variety of classic American cocktails, you can't go wrong with Christopher's as a business lunch or dinner destination.
Best Gyms/Leisure in Covent Garden
Looking for somewhere to get your blood pumping? Some gyms nearby the Covent Garden area include Nuffield Health Covent Garden Fitness and Wellbeing Gym and the Central YMCA Club. In addition, Jubilee Hall is nearby and another great way to burn off some of those calories you've likely taken in from all the mouth-watering delights that Covent Garden as to offer.
What Shops Does Covent Garden Have to Offer?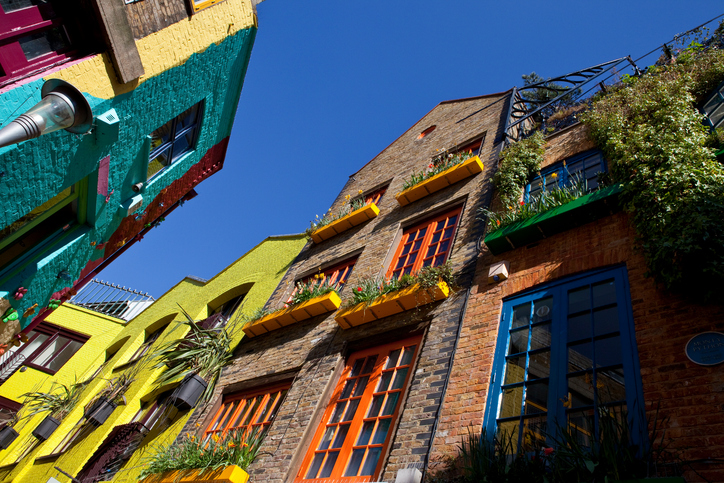 If you're looking to bring a souvenir home to a family member or friend who was unable to make the trip, or if you want to bring something home yourself to remember your time in the magnificent Covent Garden—rest assured, there are plenty of shops to browse for the perfect trinket that will do the trick.
With many of London's most trendy shopping destinations, you can trust that all your shopping needs will be tended to. Featuring global retailers like Apple and Chanel, as well as independent retailers, including Benjamin Pollock's Toy Shop and Nigel Cabourn's Army Gym, there are plenty of spots to shop from.
Want to go home decked out in some of the latest British fashions? Check out stores like Mulberry, Paul Smith, Burberry, and Cheaney to boast some timeless classics and add some trendy, modern pieces to your wardrobe.
What to Do in Your Downtime in Covent Garden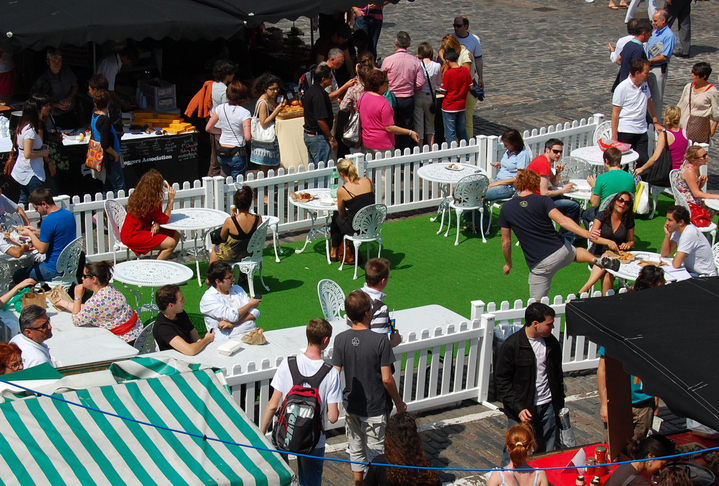 In Covent Garden, there's rarely a dull moment—but when there is, there are easily a dozen or more quick fixes to that problem. With everything from theatre performances, to museums, to street performers, you'll find something to chase away boredom in no time at all.
Featuring exciting shows like Disney's Aladdin, Harry Potter and the Cursed Child, Kinky Boots and more, there's a show for everyone in Covent Garden. Do a little research while planning your trip to see what will be going on during your stay. Check out what's showing at the Ambassadors Theatre, Royal Opera House, Wyndham's Theatre, the Palace Theatre, and more! With so many different theatre locations, they're sure to be a show your whole entourage will love.
Not into the arts or need to kill some time before your show starts? No problem. With plenty of museums and sights to behold, like Somerset House, the British Museum, Courtauld Institute of Art, the London Transport Museum, London Film Museum, and so much more, you'll be able to find hours of entertainment with ease!
Popular Commute Routes and Times by Transport
Of course, equally as important as what you are going to do with your time in Covent Garden is how you are going to get there. Fortunately, there are many methods of transportation for you to utilise to make the most out of your time.
One of the most popular ways to get around Covent Garden, or anywhere in London really, is the tube. If you are going to take the tube to Covent Garden, or to venture out of it to explore other parts of London, there are a few things you should know to make your transportation much simpler.
The Covent Garden station if one of the very few locations in Central London in which access to the platform is only possible via stairs or lift. Because of the high traffic in Covent Garden from tourists and travellers, the Covent Garden station often becomes congested.
If you don't want to wait for the elevators, your only other option is to take the stairs—which is greatly advised against unless you're prepared for a real workout. The spiral staircase consists of 193 steps, making it equivalent to a 15-storey building.
For this reason, it's faster and less exhausting to take the lifts in most cases. There are four lifts, although there is a final flight of stairs necessary to get from the lifts to the platforms—as a result, the station is wheelchair inaccessible. If you want to take the tube but need a wheelchair accessible space, it's advised to take the tube to Leicester Square instead, which is only a brief five-minute walk to and from Covent Garden. Wheelchair or no wheelchair, many people choose to do this to avoid the high congestion and inconvenience of the Covent Garden station.
You'll also want to pay attention to what time you choose to take the tube from one location to the next, as peak times and rush hour will be intense, ultimately making your trip take longer and costing you even more. If you're going to be travelling during peak times (between 7:30 and 9:30 in the morning or between 17:00 and 19:00 in the evening) then Oyster cards can help to cut down on your costs—or you can just avoid the tube during those times altogether for a more peaceful experience.
Local Lowdown—The Most Popular Destinations of Locals
Many people believe that there is no better way to truly immerse yourself in another culture than to do what those who live there do—and with good reason. After all, what better way is there to get an idea of what it is like to be a part of the daily routine in a place like Covent Garden?
Here, we've gathered the inside scoop for you on what people who live, work, and breathe in Covent Garden do on their weekend nights and in between. Covent Garden is where London locals go to enjoy the theatre, get their shopping done, or have a nice dinner with friends or family at a place like Carluccio's, a contemporary Italian restaurant, or Fire & Stone, which offers a modern take on traditional pizza.
Finally, stop and see some street performers as you pass by them. Even locals often take a moment to enjoy a new experience or performer they haven't seen before.
Why Covent Garden is a Great Place to Stay
As should be clear by now, there is plenty to do to keep you busy in Covent Garden. With something for everyone, including a wide variety of food, all different types of shows, and plenty of shopping, museums, and entertainment, there's something for everyone in Covent Garden. You simply can't top the lively and upbeat culture the area has to offer, or the centrality of being so close to many other hotspots in Central London.
Restaurants
Foodies rejoice! Covent Garden has something for everyone, whether you're looking for a quiet romantic meal with a loved one, a family friendly restaurant to take the kids, or for the ideal location for a business meeting—you can find it all within the bounds of Covent Garden. With a diverse range of options, you'll have a harder time deciding where not to eat than picking out places you like.
The previously-mentioned Christopher's isn't reserved just for business meetings—it's also a great place to enjoy a fun dinner with the family or enjoy the good company of your friends. Come for the American fare, stay for the incredible drinks!
Cafés
Want a nice place to rest your legs for a minute and grab a nice cup of coffee? You're in luck! Covent Garden has plenty of incredible cafes for you to check out.
Looking for a familiar taste? Check out the local Starbucks. Want to try something new and unique? Check out the Counter at the Delaunay, Ladurée, or Venchi. These are all quaint little places to sit down and enjoy a relaxing moment with a delicious and refreshing beverage and good company.
Shopping Areas
If you're looking to shop in London, Covent Garden is one of the best places to go. In close proximity to Leicester Square, you can find local stores and big-name brands alike. Check out some local boutiques and global retailers on the same shopping venture! If you're wondering where the good shopping is, a better question is, where isn't the big shopping? You're never more than a few steps away from some incredible shops—but checking out Long Acre is a must if you're looking for many big names and some of the best shops.
History of Covent Garden
If you're looking to truly appreciate all that Covent Garden has to offer, it helps to know how it came to be what it is today.
The area was designed and laid out all the way back in 1630, which is when this historical location became the first modern square in London. The area was originally a flat, open piazza. It took a huge step in progressing from its casual market roots in 1803, when the present market hall was built. Now, today, it is a lively and bustling place of fun and enjoyment with plenty to offer for locals and visitors alike.
Popular Serviced Apartments in Location
Got your to-do list all set? Then the only thing left to settle are your accommodations. Fortunately, Covent Garden is home to many incredible serviced apartments for you to consider setting up camp while you enjoy all that this fantastic destination has to offer. If you are looking for the best serviced apartments Covent Garden has to offer look no further.
This apartment didn't earn its 5-star customer experience rating by being anything less than the best. A five-minute walk from Covent Garden and a three-minute walk to Charing Cross, this centrally located apartment is a vibrant gem that brings modernised amenities ideal for an extended stay in luxury and comfort.
If you're looking for a near-perfect experience during your stay in Covent Garden, then these serviced apartments just may be right for you. With an impressive 4.7 customer service rating, and located only a two-minute walk from Leicester Square and not far from Covent Garden, this is a great place to call home during your stay.
This stylish apartment has earned its 5-star customer service rating with its open-plan contemporary lounge and dining areas. Looking for something spacious and open to make you feel like you're living in luxury during your extended stay? Just a three-minute walk from Leicester Square and only a few minutes more to Covent Garden, this just may be the serviced apartment you've been dreaming of.