Clarendon Serviced Apartments is delighted to announce Hyperoptics fast fibre broadband is now live at Clarendon 140 Minories in Tower Hill.
Clarendon 140 Minories is the latest in a string of Clarendon apartment buildings in London to be upgraded with Hyperoptics 'fast fibre' providing guests with a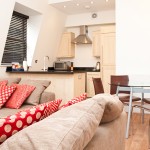 much enhanced service that delivers consistent download speeds of up to 100mb.
Managing Director at Clarendon Serviced Apartments, Scott Hamilton comments; "Travelling with multiple devices has become the norm and there's an expectation from today's business traveller to be able to connect numerous devices simultaneously without glitch and impact on speed".
Scott continues; "With Skype being a preferred means of staying connected when working away from home and video streaming an ever popular choice for home entertainment, ISP's are under pressure to meet current and future expected demand for speed and connectivity. Aside to central locations and convenient access to London's transport network it's arguable a reliable internet service is the most important element of a guest's stay and overall experience. Sadly, London still has some way to go in terms of providing reliable internet provision and service varies greatly across the City. However, where infrastructure allows and where Hyperoptic is available Clarendon continues to invest in the cabling and installation of Hyperoptics superior fast fibre service, assuring some of the fastest internet speeds available across serviced apartment providers in London today and all at no extra cost to our guests"
Currently Hyperoptic fast fibre is available in Clarendon's Kew, Hammersmith, City and Canary Wharf apartment buildings with continued roll out planned before Spring.