This month it's the Corporate Housing Annual Conference in Fort Worth, Texas. Gathering hundreds of companies and professionals in corporate housing, as well as those who manage serviced apartments, Clarendon will be there to hear about the key trends and forecasting for the industry.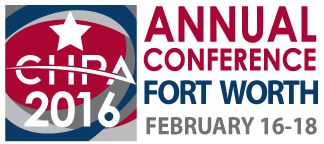 The Conference brings corporate housing professionals together to explore relocation and to take the temperature of the global landscape. Designed for those business travellers on extended stays, for those looking for a short term home from home or workers relocating to a new area and keen to try before they buy with a serviced apartment, corporate housing provides a comfortable and cost-effective stop-gap. In the US, corporate housing revenues reached $2.73bn in 2014.
As well as networking with other industry professionals, the Conference brings together innovators and keynote speakers, providing an insight into the industry itself. One of the keynote speakers will help corporate housing brands to build their relationships with customers, to strengthen their brands and make them more valuable. A second keynote explores workplace morale and making members of the team more productive. The closing keynote of the Conference will bring together a panel of experts discussing innovation and growth, considering where the industry is going in the future and the challenges of the current environment. With the growth of instant booking and the readily available reviews from former customers and members of the public, how will this affect how brands should position themselves and respond.
Peter Morgan, Clarendon's newly appointed Commercial Director, will be attending the Conference. As a serviced apartments provider in London, Clarendon is keen to keep an eye on industry trends. The latest research from the UK, published by the Association of Serviced Apartment providers (ASAP) and Savills towards the end of 2015 suggests the serviced apartments sector is set to grow much faster than any other corner of the hospitality industry over the next two years. Looking at planning consents, along with projected industry growth, London is expected to continue to lead the sector. Extended stay remains a relatively small part of the UK hospitality sector, at just over 3%, but with stock set to increase this will change. The US continues to be ahead of the UK in terms of growth and identifying trends within the US and global market will enable UK serviced apartment and corporate housing providers to gain valuable insight.
As the extended stay market grows and expands in the UK, industry providers will need to learn from the bigger markets around the globe to prepare for change. Growth means supporting more customers, preparing for and responding to growing demand and intensifying brand awareness. The Corporate Housing Annual Conference is a valuable opportunity for corporate housing and serviced apartments providers in the UK to learn from the American marketplace and bring that expertise over to the burgeoning market in the UK and Europe.